Day 6 of 25 Days of Christmas My Urban Oven Style!
Today I FINALLY decorated our Christmas Tree. I could not wait to share it with you all. And share a fun contest with you!
Growing up, I always admired the shopping mall and catalog Christmas trees. I love a nicely coordinated balanced Christmas Tree.  I have been doing my tree in gold and red for 7 years now, and still love the color combination.
While The Hubby finished up our Christmas lights on the outside of the house, I finished decorating around the house.  Since I am so particular about how the Christmas Tree looks The Hubby normally leaves me to the decorating.  I tried this year to convince him to help me, but he knows me too well. He knows I love my magazine style tree.
I saw this photo on Facebook the other day that showed the difference in what Christmas Trees looked like for people without kids, with kids, and with grown up kids.  It made me think that I should savor my Christmas decorating style now, as when we have kids the tree with look very different.
Here is what it looks like at night. I love cozying up at night with the tree all lit up. A good cup of hot chocolate or a glass of wine are the perfect pair.
I personally like to leave my tree up until after my birthday in January, so I can savor every moment of it. Some years the tree stays up until after Valentines day.
Doesn't that look like the perfect view?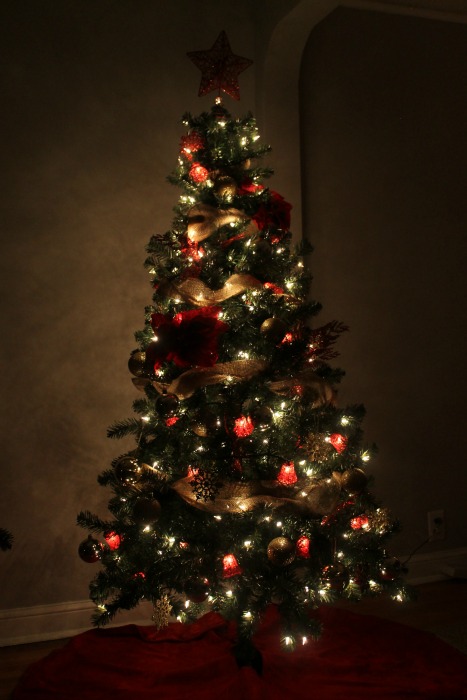 Now that I have shared my Christmas Tree, I want to see your trees!
I will be hosting a contest for The Best of 2015's Christmas Trees. Everyone who enters will be entered into a drawing to receive the below holiday wall decor and I will be featuring 10 lucky trees on my blog next Sunday, December 13th!
You have 3 different options to enter:
I am so excited to see all of your trees!
Oh! One of my favorite things about of our Christmas Tree is the outlet we have that plays music and synchronizes the lights to the tune. Here is a video!

Stay tuned for more 25 Days of Christmas My Urban Oven Style!
Look back at the first few days:
Day 1: 25 Days of Christmas My Urban Oven Style
Day 2: Lactose Free Coconut Hot Cocoa with Coconut Whipped Cream
Day 3: A Doggy Bed for Christmas
Day 4: Candy Cane Pretzel Cupcakes
Day 5: 10 Christmas Gift Ideas for an Aspiring Baker
XoXo-
Rachel
P.S. To keep yourself up to date on all things My Urban Oven, make sure you are following us on all our Social Media channels. There are new photos and posts all the time, but not always the same ones on each channel. Don't miss out by not following along on each 🙂
Facebook- facebook.com/MyUrbanOven
Instagram- @MyUrbanOven
Twitter- @MyUrbanOven
*NEW* Periscope- @MyUrbanOven