Day 4 of Christmas My Urban Oven Style brings your Cupcakes!
How are you coming along with your Christmas Gift shopping yet? There are only 3 weeks left before Christmas, can you believe it? Which means there are only 3 Saturdays left to shop for presents.
That scares me a little.
I was all about getting my Christmas shopping done on Black Friday. That didn't happen. I say that every year, and every year it doesn't happen. I get stuck on a few people and they are the ones that derail my gift giving intentions.  This weekend, my goal is to complete my shopping. Then on to wrapping, my favorite part.
You can expect a post on a few grift wrapping ideas next week!
My sister in law teases every year that they always know which presents are from The Hubby and I because I make sure all my presents are wrapped in the same paper, ribbon and bows. Everyone knows that The Hubby didn't wrap them. He would use newspaper if it were up to him.  No joke. He wrapped my Christmas present that came in the make yesterday already, using the Thanksgiving newspaper…. I would like to think he is just trying to be sustainable.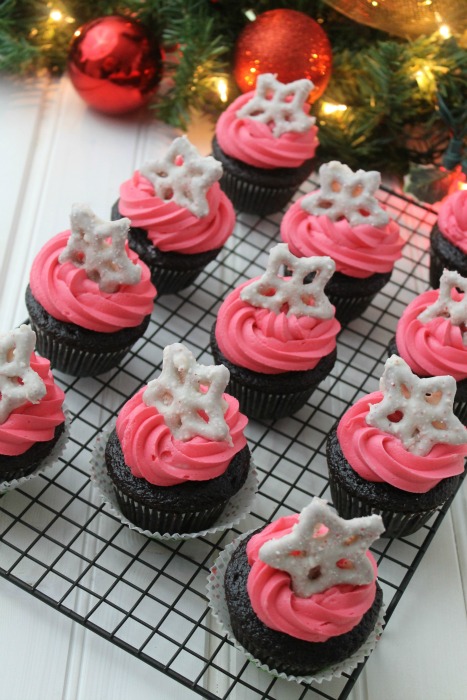 I was shopping at the grocery store and found a bag of Flipz Candy Cane chocolate covered pretzels and almost bought them. They looked like a fun Christmas themed topping for a cupcake, and The Hubby loves chocolate covered pretzels.  Then I realized, I could make them, rather than buy the small bag for $4.99. Which is exactly what I did!
These would be perfect for a holiday party or potluck.  They can be made as simply as you want or as complicated as you want.  In the recipe below, I have listed frosting and chocolate cake recipes, but you could aways use a store bought box of cake and frosting.  I just recommend you make the pretzels, they are super easy! But if you really have to, you could go buy the Flipz. I wouldn't judge you.
You know you could always make the pretzels and eat them alone.  I might have done that with a few of the extra pretzels that didn't make it atop cupcakes.
My cupcakes will be going to a friends house for dinner tomorrow.  I hope they like them.
Stay tuned for more 25 Days of Christmas My Urban Oven Style!
Look back at the first few days:
Day 1: 25 Days of Christmas My Urban Oven Style
Day 2: Lactose Free Coconut Hot Cocoa with Coconut Whipped Cream
Day 3: A Doggy Bed for Christmas
Day 4: Candy Cane Pretzel Cupcakes
XoXo-
Rachel
P.S. To keep yourself up to date on all things My Urban Oven, make sure you are following us on all our Social Media channels. There are new photos and posts all the time, but not always the same ones on each channel. Don't miss out by not following along on each 🙂
Facebook- facebook.com/MyUrbanOven
Instagram- @MyUrbanOven
Twitter- @MyUrbanOven
*NEW* Periscope- @MyUrbanOven
Candy Cane Pretzel Cupcakes
Ingredients
Instructions
Prepare chocolate cupcakes and allow to cool.
Frost cooled cupcakes with piping bag and your favorite large tip. If you do not have frosting tools, place frosting into a gallon size plastic bag and cut a large hole in the corner.
To make pretzels, in a microwave safe bowl, place white chocolate chips. Microwave in 1 minute increments, stirring between, until melted.
Place candy canes into blender or food processor and grind until powder.
Mix candy cane powder into melted chocolate. Reserving 1 tablespoon.
With a fork, dip pretzels and full coat. Once dipped sprinkle with a pink of reserved candy cane powder. Place on a wax paper pan to harden. Once finished dipping all pretzels place in refrigerator to harden.
Place chocolate covered pretzels on top cupcakes.
Enjoy!
http://myurbanoven.com/candy-cane-pretzel-cupcakes/