Day 7 of 25 Days of Christmas My Urban Oven Style!
Lets have a delicious adult beverage on this Monday.
Did you ever want to know what Fall tastes like? It is this Caramel Apple Sangria.
It might now be fall anymore, but this warm winter makes it feel like the longest fall ever. I am having a hard time grasping that Christmas is 18 days away. That is only 2 weeks left to get your Christmas shopping done.  Dang, I better get going.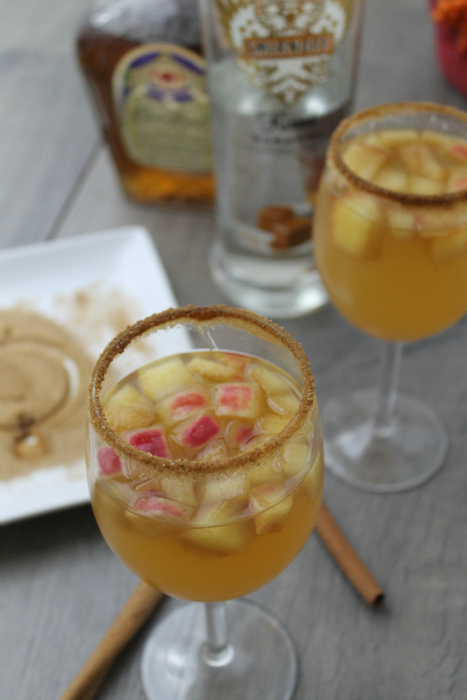 I made this sangria for the first time on Halloween, and fell in love with it. My friend and I drank several glasses that night. I really was way too easy to drink, which can be slightly dangerous because of the amount of alcohol in the recipe.
I was really surprised how good the caramel flavored vodka was in the sangria. It really tasted like there was caramel melted into the sangria.
I have never have posted an alcoholic beverage on here before, but I think it needs to be more of a regular experience. I could really use the recipe experimenting in my life.
I hope you enjoy the recipe!
Remember to stay tuned for more 25 Days of Christmas My Urban Oven Style!
Look back at the last few days:
Day 1: 25 Days of Christmas My Urban Oven Style
Day 2: Lactose Free Coconut Hot Cocoa with Coconut Whipped Cream
Day 3: A Doggy Bed for Christmas
Day 4: Candy Cane Pretzel Cupcakes
Day 5: 10 Christmas Gift Ideas for an Aspiring Baker
Day 6: 2015 Christmas Tree Contest
XoXo-
Rachel
P.S. To keep yourself up to date on all things My Urban Oven, make sure you are following us on all our Social Media channels. There are new photos and posts all the time, but not always the same ones on each channel. Don't miss out by not following along on each 🙂
Facebook- facebook.com/MyUrbanOven
Instagram- @MyUrbanOven
Twitter- @MyUrbanOven
*NEW* Periscope- @MyUrbanOven
Ingredients
3 medium Apples, diced
1 bottle white wine
1 cup Smirnoff Caramel Vodka
1/2 cup Crown Royal
3 cups Apple Cider
1-2 cinnamon sticks
1 tsp ground nutmeg
1/2 cup water
3 tablespoons sugar

Rimming Sugar

1 tablespoon sugar
1/2 tablespoon cinnamon
Instructions
In a pitcher, combine white wine, caramel vodka, crown royal, apple cider, cinnamon stick(s), nutmeg and apples.
Optional: Combine water and sugar in coffee mug or measuring cup. Microwave for 2 minutes to dissolve sugar to make simple syrup. Add syrup to sangria and stir.
Refrigerate and allow sangria to rest for 4-8 hours or overnight before serving.
To serve, combine sugar and cinnamon on a plate. Dip top of glass into water, and then dip in sugar and cinnamon.
Add ice and Sangria to glass and serve.
http://myurbanoven.com/caramel-apple-sangria/