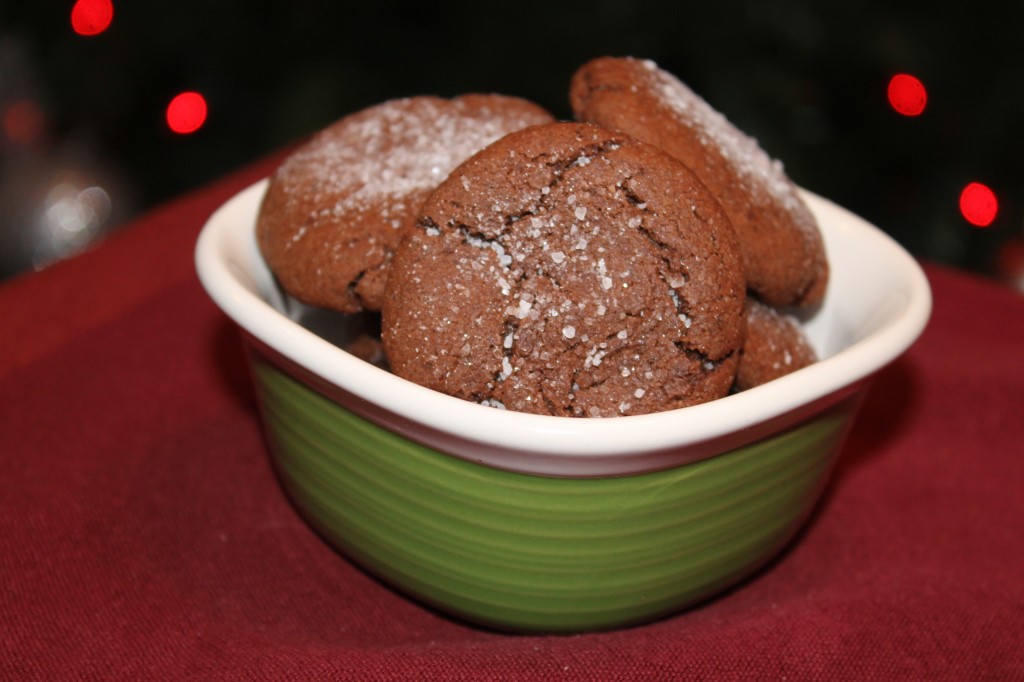 Have you ever had a Salted Caramel Mocha from Starbucks?? Sinful!
The sad part is they are only around for 2 seconds in the fall.  I made sure I had my fill this Fall. These cookies bring me back to those magical moments.
When I found this recipe, I told myself to calm down, take a deep breath, and think about where to incorporate this into the cookie challenge. I HAD to make these.
Salt on a cookie? I had to do it. It was calling my name…
All the waiting paid off, these are delicious! Just as sinful as the Mocha I won't be able to have until next Fall.  I am pretty confident these will fill the void until that time of year again.
They are calling your name now to… you know it….. make me…. make me…. make me…..
Salted Chocolate Caramel Cookies
adapted from Tow Peas & their Pod

yields 2 1/2 dozen cookies
5 tablespoons butter
7 tablespoons unsweetened cocoa
2/3 cup granulated sugar
1/3 cup packed brown sugar
1/3 cup sour cream
1 teaspoon vanilla extract
1 1/4 cup all-purpose flour
1/4  teaspoon baking soda
1/4 teaspoon salt
Sea salt
Preheat oven to 350ºF; line 2 baking sheets with baking paper.
Melt butter in a small saucepan over medium heat, do not brown. Remove from heat.
In large mixing bowl mix together, with an electric mixer, melted butter cocoa powder and sugars. Add yogurt and vanilla, continue mixing to combine.  Add flour, soda and salt, mix again until moist and all ingredients are incorporated.
Scope dough balls onto backing sheets using a cookie scope (creating 1″ balls).  Divide each ball in half and place 3-4 caramel bits between dough wrapping the dough fully around the caramel bits. Place dough balls on cookie sheets and flatten slightly with the palm of your hand. Sprinkle each cookie with sea salt.
Bake for 10-11 minutes or until almost set. Cool on pans 2 to 3 minutes. Remove cookies from pans; cool on tin foil.