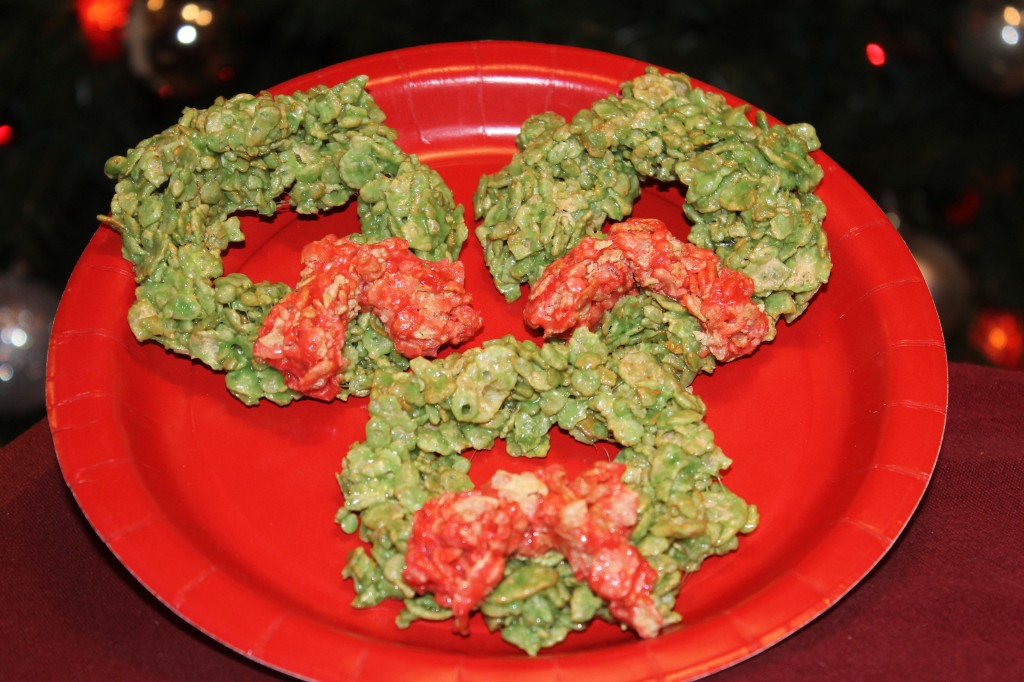 Are these not too cute!
They look like perfect little wreaths you could hang on your front door. Yay!
Do you love Rice Krisipie bars? I could eat a whole pan by myself.  Last year when a co-worker brought these in to work, I swear I ate half the pan by myself.  They were so good! However, I walked around with my tongue green for the rest of the day, but who cares.  We all have to have a green tongue once and a while.
You will notice that these are missing the traditional red hots cinnamon candies. I did that. I don't like red hots, and I know many people that don't, so I changed it up a little to eliminate them.  The result was perfect! No red hots, and a cute looking wreath.  What else could one ask for?
Now make these for your cookie platter.  They will go over wonderfully, promise! Kids and Adults alike will fight over the 🙂
Christmas Wreath Cookies
yields 12-18 cookies
8 tablespoons butter
1- 10 oz package large marshmallow
1 teaspoon vanilla
1 teaspoon green sprinkles
1 teaspoon red sprinkles
2-3 drops red food coloring
4-5 drops green food coloring
6 cups Special K cereal
To prepare for assembly, place wax paper on 2 baking sheets and a small bowl of water for keeping fingers clean while forming wreaths.
In a large bowl, measure out 4 1/2 cups cereal and in a small bowl, measure out 1 1/2 cup cereal; set aside.
Simultaneously melt 2 tablespoons butter in a small saucepan on medium heat and 6 tablespoons butter in a medium saucepan.
Once butter is melted add 10 marshmallows to the small saucepan, and the remaining (roughly 30 marshmallows) into medium saucepan.  Using separate wooden spoons continually stir each marshmallow mixture until fully melted.
The smaller pan will be melted quicker, so you will need to add the red sprinkles and red food coloring and stir quickly.  Pour over per-prepared 1 1/2 cups cereal.  Stir together until all cereal is covered.
When the medium pan of marshmallows is melted add in green sprinkles and green food coloring, stir quickly.  Pour over per-prepared 4 1/2 cups cereal.  Stir together until all cereal is covered.
Wet finger tips, and scope balls of green cereal on pan. Form wreaths out of each ball by forming a hole in the center.
Add a "V" of red cereal to each wreath to create a ribbon on the bottom of the wreath with the "V" facing down.
Allow to harden for 1-2 hours.  Transfer to a airtight container and store with wax paper between each layer.