Roasting veggies is one of my favorite things to do to vegetables. Veggies look fabulous and taste delicious roasted. Plus, it is super easy to roast veggies.
Oh- I cannot wait for the farmers markets to be back! One of my favorite things about the city are the farmers markets all summer. You can find them all over, buzzing with traffic.  Back home, my small college town had a farmers market once a week at a church on the out skirts of town that almost no one went to.  The concept really didn't take off there- especially when most people have their own gardens.
I could go on all day about my farmers market love, but I will move on.
Garlic Brown Butter Roasted Cauliflower.
I have not encountered many people who love cauliflower.  Seriously an under rated vegetable.
Test this recipe out on any non-believers, they will be converted REAL quick. Who doesn't love anything covered in butter?
Ok- it isn't all bad for you, there is cauliflower, wheat bread, and… I can't think of a 3rd healthy thing, but still those 2 are good ones…
Let's just move on to the recipe…
Begin by chopping the head of cauliflower up into bite size pieces. I discard most of the stalks because I am not the biggest fan, but feel free to cut those up too. Toss the florets in olive oil and season with salt and pepper.  Spread in an even layer on a large baking sheet, and pop these bad boys in the oven to roast.
Don't they look so pretty when they come out? I love the nice golden browned crispy edges. Wasn't that easy? If you want to stick to the super healthy, stop right here. You can serve your cauliflower roasted like this as a perfect side. OR you can keep going with me on this cauliflower journey and fatten them up a little 🙂
While your cauliflower is roasting, start on your bread crumbs.
For the bread crumbs, I like to use wheat bread, but you could always use white bread. You could also skip this whole step and use store bought bread crumbs with Italian seasoning. Whatever level of effort you want to put in works.
Start by tearing 4 slices of wheat bread into small pieces, and placing it in your food processor. Pulse until you have loose crumbs.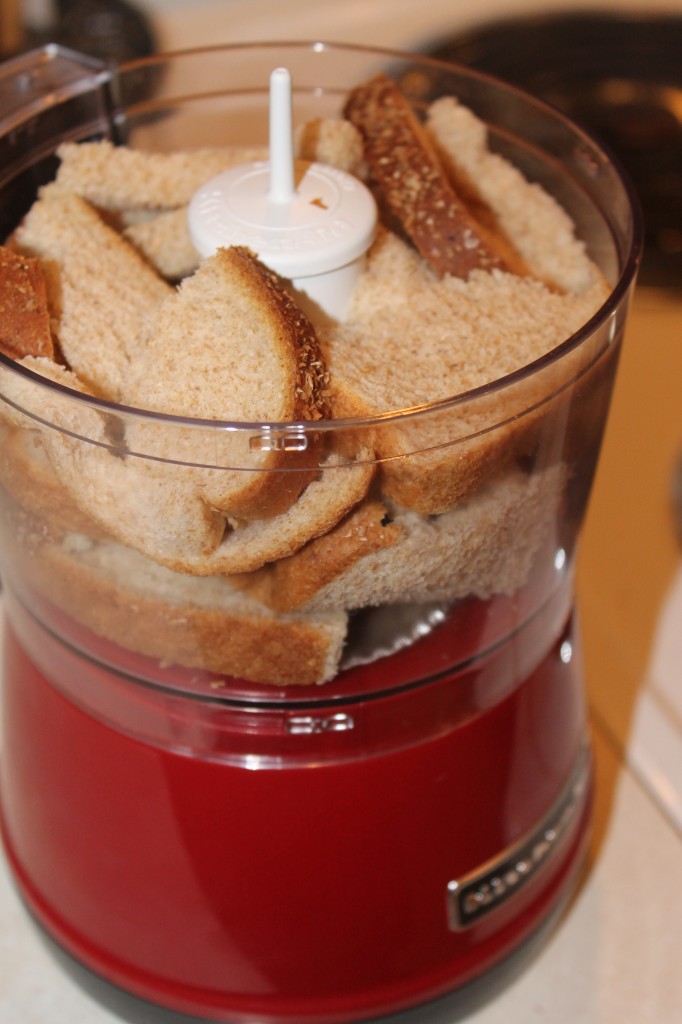 Next, add in your seasoning- oregano, garlic, parsley, basil, black pepper, salt- and pulse again.
To crisp up your bread crumb mix, place 1/2 tablespoon of butter in a saute pan and allow to melt. Add in seasoned crumbs then fry until toasted and browned.
Set bread crumbs aside until combining with cauliflower.
To brown the butter for your cauliflower, place 4 tablespoons of salted butter in medium saute pan with your cloves of garlic. Cook on medium-low heat for 5 -10 minutes. You want the garlic to soften and the butter to turn a nice caramel color, but not burn.   Turn the heat down even lower if the butter seems to be cooking too fast. Once the butter is ready, place the cauliflower in a bowl, and pour the garlic butter over the top and toss.
The last step will be to toss your bread crumbs and shredded parmesan cheese with your already buttered cauliflower.
Serve along side your favorite main dish. I like to serve it with steaks, open face veggie burgers, or pork chops.
Garlic Browned Butter Roasted Cauliflower
yields 6-8 servings
1 head cauliflower, divided into bite size florets
2 tablespoons olive oil
4-5 garlic cloves, peeled and halved
4 tablespoons butter, salted
Salt and pepper, to taste
Bread Crumbs:
1/2 tablespoon butter, salted
4 slices bread
2 teaspoons parsley
2 teaspoons garlic powered
1 teaspoon basil
1 teaspoon oregano
1 teaspoons black pepper
1/2 teaspoon salt
1/4 cup parmesan cheese, shredded
Pre-heat oven to 425 degrees.
Chop cauliflower into small bite size florets. Toss with olive oil and season with salt and pepper. Place in a single layer on baking sheet. Roast in oven for 10-20 minutes, until florets are golden brown and softened.
Shred slices of bread and place in a food processor. Pulse until corse crumbs form.  Add parsley, garlic powder, basil, oregano, black pepper and salt. Pulse again until all ingredients are evenly distributed.
In saute pan melt 1/2 tablespoon butter. Add bread crumb mix to pan and fry until toasted and browned.
In a separate saute pan, melt 4 tablespoons butter on medium-low. Add garlic cloves. Cook until butter is a caramel brown color and garlic is softened, approximately 4-5 minutes. Ensure you do not burn the butter or garlic as it will become bitter. Turn heat down if butter cooks too quickly.
In a large serving bowl, toss together cauliflower and browned butter.  Last, stir in bread crumbs and parmesan cheese. Serve immediately.