A few weekends ago we went to a friends house for lunch and to watch the Vikings football game.
Wow-those boys are playing well this year. For the most part they are, but they are pumping out wins that is for sure!
I wanted to bring a nice fall dessert over to our friends house since they were making lunch for us. They made Banh Xeo for us. I had always wanted to try this Vietnamese dish, so they invited us over to have it for lunch. Boy was I glad they invited us over.  It was delicious! And from what they explained/I observed it was pretty easy to make too!
Up until that day, all the photos I had seen of Banh Xeo, I had thought it was like an omelet.
I was wrong.
Completely wrong.
It is more like a savory rice flour crepe served with lots of veggies.  I ate two whole ones, and could have eaten more if I wasn't worried about looking like a piggy in front of our friends.
Also, how creative is this chalkboard in their house? Every time we visit them, there is something new written on it. Crazy chalk skills if you ask me! I have been randomly staring at walls in my own house since, plotting where I can add one of these chalk boards. I might need to ask our friend for chalk writing lessons, because mine look like a kindergartner…
Back to what I made for lunch at our friends.
We had been out with other friends the night before, and I didn't get to making dessert until the morning before. I hate bringing something store bought to someones house, so I laid in bed Sunday morning thinking about the ingredients in my kitchen, and how I was going to make something that would be ready to bring in less than 2 hours. As you know, desserts aren't always the easiest to make when on a time crunch. You normally needs some cooling, chilling or long baking time for a dessert.
The Hubby's cousin had brought us some apples earlier in the week, and I knew I had puff pastry in the freezer. I always try to have puff pastry and fillo dough cups in t he freezer, they seems to always come in handy when I am in a pinch to throw together an appetizer or dessert.
The combo of puff pastry and apples inspired this recipe. It also inspired me to get out of bed on a Sunday morning and get in to the kitchen. Which can be a hard thing on a Sunday morning.
Once in the kitchen I started just adding different layers to created this recipe.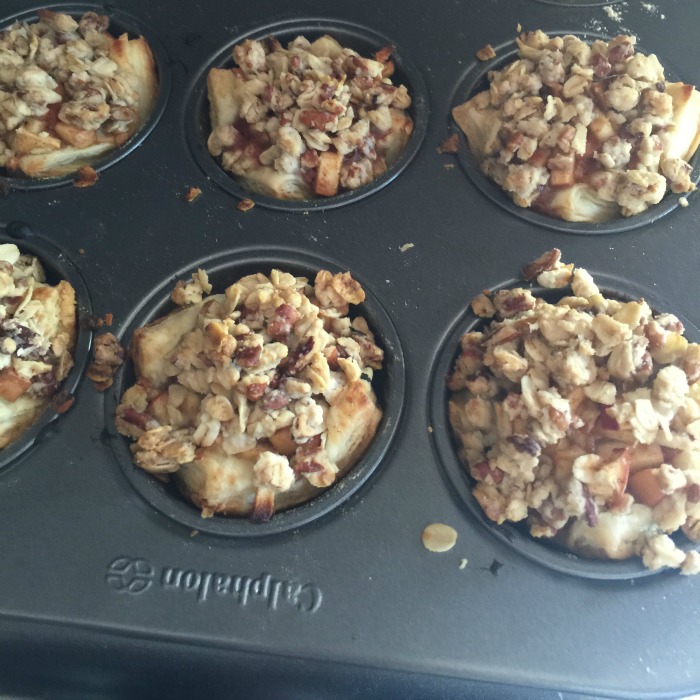 Although I was rushing and randomly adding ingredients as I went with this recipe, these turned out delicious!  I really love fall, and any fall like food is an amazing things.  Minus PSL… those are just nasty….
Apples just scream fall to me.
Every year, I tell myself this is the year that The Hubby and I are going to take a fall day and visit an Apple Orchard, since there are so many near us, but it never happens. This year was no exception.  Keeping that one on the Fall Bucket list for next year I guess.
I heard from a few people that they really likes these because they weren't "too sweet", which made me laugh. I laugh at anyone that tells me that they really aren't a sweets person, because more times than not that person is the first to finish their dessert or reach for a cookie. The Hubby being guilty of both saying the aforementioned phrase as well as devouring two of these after lunch. He is always telling me he doesn't like dessert or sweets, but I truly think that is just him trying to trick his brain into not eating them.
In addition to these not being overly sweet, they make "pie" eating much cleaner! No messy dishes, or need for utensils.  Pie made easy, is the best way to eat pie 🙂
We have a Thanksgiving party coming up soon, and I think these will be on the menu for sure. Super easy to make, and packed with Fall flavor!
Enjoy!
XoXo,
Rachel 
Mini Apple Pecan Streusels
Ingredients
3 large apples (~3 cups diced small)
1/3 cup sugar
1/4 cup flour
1 teaspoon cinnamon
1/2 teaspoon nutmeg
1/4 teaspoon salt
1 box puff pastry (2 sheets)
1/2 cup oats
1/4 cup flour
1/4 cup pecans, chopped
6 tablespoons butter, melted
Instructions
Pre-heat oven to 400 degrees. Place frozen puff pastry on parchment paper covered cutting board, and place on top of stove to thaw. Warmth from oven should help to thaw puff pastry faster than 40 minutes listed on package.
Dice apples into small cubes and place in large mixing bowl
Add sugar, flour, cinnamon, nutmeg and salt to apples and stir until fully incorporated. Allow apples to sweat from sugar.
In a separate mixing bowl, combine oats, flour and melted butter until fully incorporated. Mix in pecans.
Once thawed, cute puff pastry into 18 square pieces.
Grease enough muffin pans for 18 servings. Place one square pieces of puff pastry into each muffin hole.
Divide apples and juice from apples evenly between each of the pastry filled muffin holes.
Last, add streusel to the top of each apple filled pastry.
Bake at 400 degrees for 20-25 minutes or until puff pastry is golden brown.
Serve hot or at room temperature.
http://myurbanoven.com/mini-apple-pecan-streusels/