My team at work hosted a Red, White and Blue Potluck this week, which was super fun! We ate and ate and ate, then played a rousing game of 4th of July themed hang man.  Did you know that Betsy Ross sewed the first American Flag? I didn't, I thought her name was Betty. I guess visiting the house where she sewed the flag in Baltimore last summer didn't teach me anything….
If you are headed out to a BBQ for July 4th here are some of the things we had that might get your creative juices running:
Blue and White Corn Chips with Salsa
Red Fruit Punch, White Milk and Blue Mountain Dew
Funfetti cake with the American flag in whip cream, Blueberries and Strawberries
Caprese Salad (missing the Blue, but oh so delicious)
Spinach salad  with strawberries, blueberries and feta cheese topped with poppy seed dressing
Cookies decorated in Red, White and Blue
Pretzels dipped in white chocolate covered in Red and Blue Sprinkles
My contribution to the event was these delicious Red Velvet Cupcakes with Blue and White Cream Cheese Frosting.
When making these cupcakes, I took a different spin on Red Velvet. Instead of making my go to recipe, I experimented with simplifying the process. The Result: Super Moist and Fluffy Cupcakes= Success!
To make these delicious and easy cupcakes I started with a yellow box cake mix, chocolate pudding, red food color and a few other ingredients to complete the mix.
Before adding the red food coloring to the already mixed cake batter, I mixed it first with the chocolate pudding to get a nice, rich red color. There you have it, red velvet batter. Wasn't that quick and easy?
I filled some fun red polka dot cupcake liners, then popped the cupcakes into the oven for 20-22 minutes.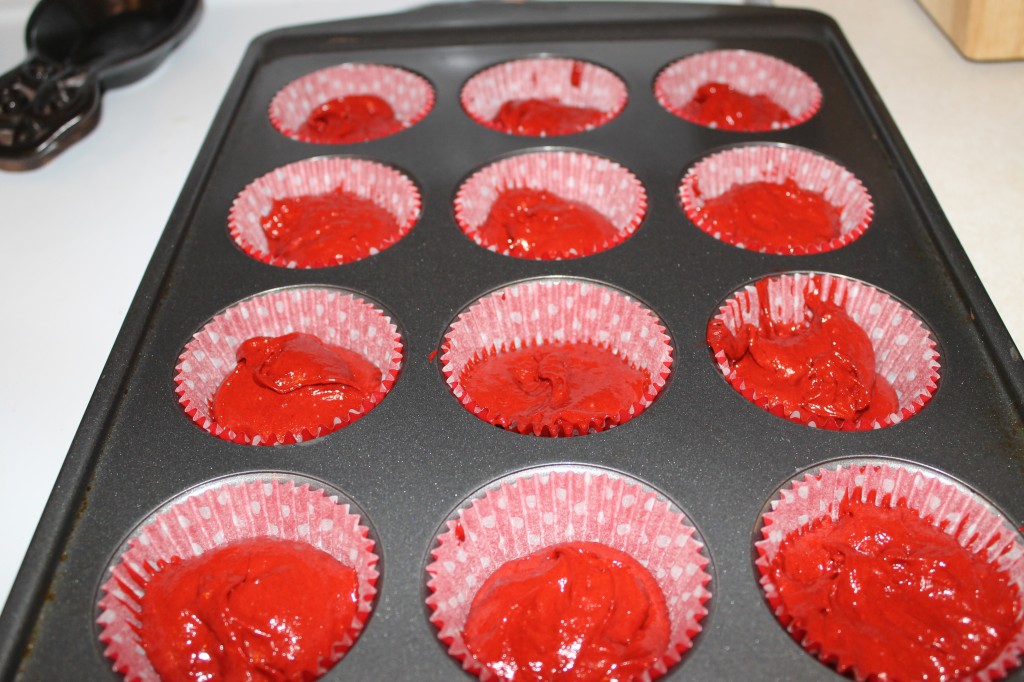 Last I decorated the cupcakes up with white and blue cream cheese frosting.  There you have it- Patriotic Cupcakes! *
*I know you are going to want to know how to get the blue and white frosting to blend like that, but I unfortunately did not take enough photos of the process. I will have to come back to this and show you another day 🙂
Easy Red Velvet Cupcakes
Yields 24 cupcakes
Cake:
1 yellow box cake mix (only the mix, not prepared)
4 eggs
½ cup sour cream or plain yogurt or plain greek yogurt
½ cup vegetable oil
½ cup water
1 box chocolate pudding
1 oz red food coloring
Preheat oven to 350.
In large bowl mix, with hand mixer, cake mix, oil, water and eggs until just combined.
In small bowl combine red food coloring and pudding mix.  Mix into cake mix at medium speed for 2 minutes.
Line cupcake pan with paper cupcake liners.  Fill each 2/3 the way full.
Bake for 20-22 minutes, just until cupcakes spring back to touch.  Do not over bake. ( I would recommend testing at 19 minutes and test every min or so until done)
Store in refrigerator in air tight container.
Cream Cheese Frosting
1- 8oz pkg. cream cheese, room temp
2 tablespoons butter, room temp
1 tablespoon milk
1 – 2 cups powdered sugar
Using an electric mixer combine milk, butter and cream cheese.
Add in powdered sugar ½ cups at a time. Taste frosting after adding 1 cup. Add more sugar if not sweet enough.
Frost cupcakes once cool.  Store in airtight container in the refrigerator.