Do you remember Home Ec?  Do you remember 8th grade?  Do you remember trying to listen to your teacher, but writing notes to you friends instead? Giggling with your girl friends about the boy who sat across from you in science?
I do. I miss those days sometimes. I miss being able to go to class, play sports and have mom cook me dinner. Life was easy. Uncomplicated, well except for your immature "boyfriend" that didn't talk to you in the hall that week. Might as well dump him.
Where did that come from? I don't really want to be a awkward teenager again.
Well, this recipe is actually from my 8th grade Home Ec class.  I have been making this recipe since the day we made them in school, but I have not made it for maybe 4 years. The other night I decided to break out the recipe again for The Boy since he loves soft pretzels from the store. They were delicious, soft and as easy to make as I remembered.  Bust out the flour and yeast and get to it!
Start by mixing together 3 cups flour, yeast and salt in medium mixing bowl.
Add water, honey and oil.  Tip: if you first use your measuring spoon for oil, then the honey with pour out smoothly.
When you first mix the dough together it will be lumpy, but you just need to keep on stirring.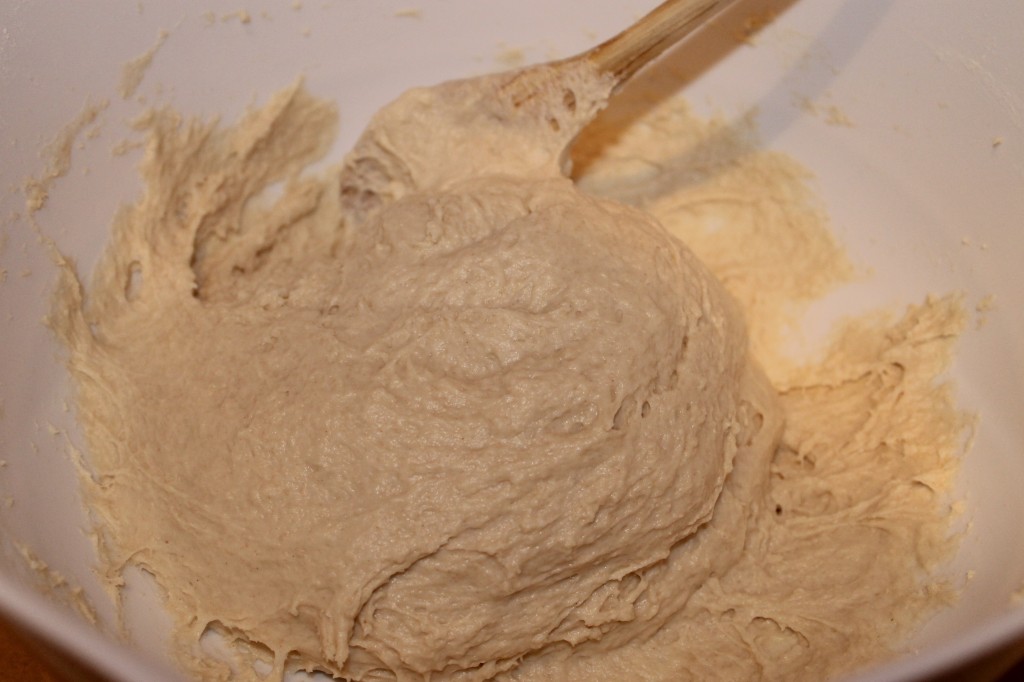 Continue stirring for 4 minutes and the dough will become smooth.
Now stir in small portions of flour from the extra 1 cup you set aside.  I added in about 1/2 cup slowly. You might need to use your hands to fully incorporate the flour.
Next lightly flour the counter or table top with remaining 1/2 cup flour and begin kneading.
You will need to knead the dough for a long, long time.  Start by placing the dough away from you, then using your palms, pull the dough towards you with the heals of your palms. Next fold the dough in half with your left hand, then again with your right hand. Last, fold the dough down toward your body.  Now repeat, may be a 100 times, or more like 8-10 minutes.
Using kitchen twine to cut the dough, divide it into 12 equal portions.

Roll dough out into 15-20 inch ropes. Then twist into pretzel shape and place on greased baking sheet.
Bake for 15-20 minutes or until golden brown.
Spread hot pretzel with butter, sprinkle with sugar and cinnamon, or sea salt and enjoy, or whatever topping you want! YUM!
Soft Pretzels
yields 12 pretzels
4 cups all-purpose Flour
1 package active dry yeast (2 ¼ teaspoons)
1 teaspoon salt
1 1/3 cups water, hot (120-130 degrees)
3 tablespoons vegetable oil
1 tablespoon honey
Preheat oven to 425 degrees
Lightly grease a baking sheet or spray with nonstick cooking spray.
Stir together 3 cups of flour, yeast, and salt in large mixing bowl.
Add water, vegetable oil, and honey.  Beat 3-4 minutes by hand.
Add in ½ cup flour to make a soft yet manageable dough. Sprinkle ¼ cup flour on counter and knead for 8-10 minutes.  Use remaining ¼ cup flour to add to counter top as needed during kneading.
Using kitchen twine, divide dough into 12 equal portions. Roll each into a 15- 20 inch rope.
Twist each rope of dough into a pretzel.
Place on greased baking sheet and bake for 15-20 minutes until golden brown.