As promised- Throw back to June 2012!
I can't believe it has been a year already!
Last summer my amazing best friend, Amy, married her other half on a beautiful August day.  She was the most stunning bride. When you think of a fairy tale princess in her elegant ball gown, that was her. She had her hair in the style of a modern-day princess, Miss Kate Middleton.  Amy was by far more breathtaking. I might be bias in all of this, but I am pretty sure her smile will make you agree with me.
Amy has a great love for London!  She studied abroad there and could not get enough of the Kate and William wedding, so while planning for her Bridal shower with my co-conspirators, we decided on throwing a British inspired Tea Party Shower.  Once we landed on the idea the creative juices just took off!
Partners in crime- Don't hate me for this photo Pam and Deb, but this was the only one I have of you two together 🙂
We knew we wanted to use pretty linens and China, serve mini bite size foods and fun desserts, and decorate with fresh flowers.  We had high ambitions from the start, and were a little sceptical of if we could get it all together.  However, I was determined to make it all happen and so were her mom and godmother! 
This day was going to be perfect, no matter what!
The thing that gave me the most trouble in all of the planning was deciding on favors to give away to guests. I had seen many different ideas at other showers, but wanted to make sure it was creative and matched our theme.  I landed on hand painted tea cups with british tea.
Now since we were expecting 30 guests and I didn't want to break the bank.  I landed on creating my own tea cups. I started with blank Ikea tea cups with saucers, bought some acrylic paint, and started creating random designs. I am by no means overly artsy, but the basics turned out really great.  After baking them to seal the paint, I filled each one with 2 packets of tea, wrapped them in clear celo bags and tied them off with ribbon. Each one cost me less than $2. 
With my love of baking I requested the job of creating the desserts.  I left the bulk of the food up to my co-hosts, but desserts were all mine! I decided on making a small cake, fresh scones, bride and groom cake pops, mini fruit tarts and teacup cupcakes.
I know you recently just saw this cake in a few of my other posts, but actually this was the first one I made.  I found this rosette cake tutorial over at "i am baker".  Amanda does some great things with cakes, you should check her out!
By request from the Bride, I made cake pops.  I wanted to make them bridal themed to match the day. Aren't those little bow ties the cutest?? And of course they were red velvet.
I did my best to try to diversify the dessert offerings. The cake was white, the cake pops were red velvet, and the cupcakes were Funfetti.
The other stars of the show were the Tea Cup Cupcakes! I am not going to say these were easy, but they were cute. 
Do you see the little teacup handles?? Probably the hardest part to get to stay on the "cup". 
Finally, the scones!  These are a "must have" at a British Tea Party.  I made two varieties, Blueberry and a Vanilla Bean.  The Vanilla Bean was by far my favorite!
Now that I have spent all this time raving about sweets, I think I should talk about the best part of our Tea Party.
We requested that everyone wear hats to complete our British theme. And boy did it turn out wonderfully!
The bride wore her mother's hat from her wedding, the veil was all too fitting!
As unsure as we were on if people would wear hats, we could not have been more surprised by the results. All the women went for it, and went for it BIG!
These lovely ladies even went to a costume shop to rent accessories and hats for the shower. 
A few of her bridesmaids in their hats or should I say two hats and one fascinator.
So British of you Mallory. 
Mallory actually was Amy's partner in crime while in London, so it was only fitting she went for a fascinator.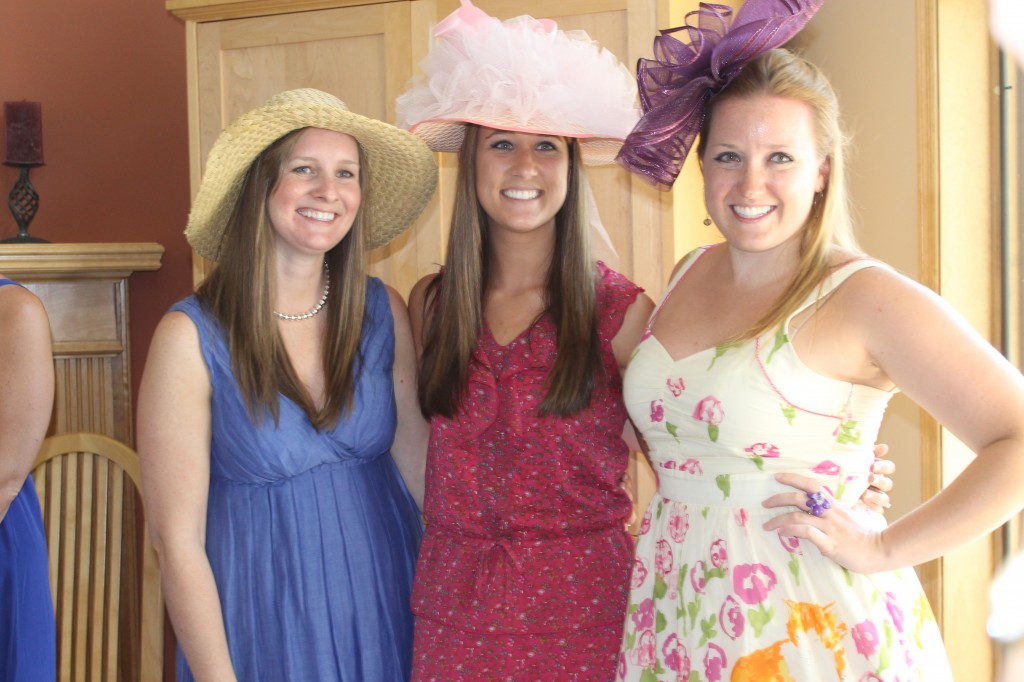 The day was so wonderfully sunny we were able to have tables outside for everyone to enjoy the weather.
Doesn't it look like we are having a Tea Party??
I was so in love with this party, I didn't want it to be over!
And then there were gifts! We also did a have a few games for that ladies, with fun little prizes.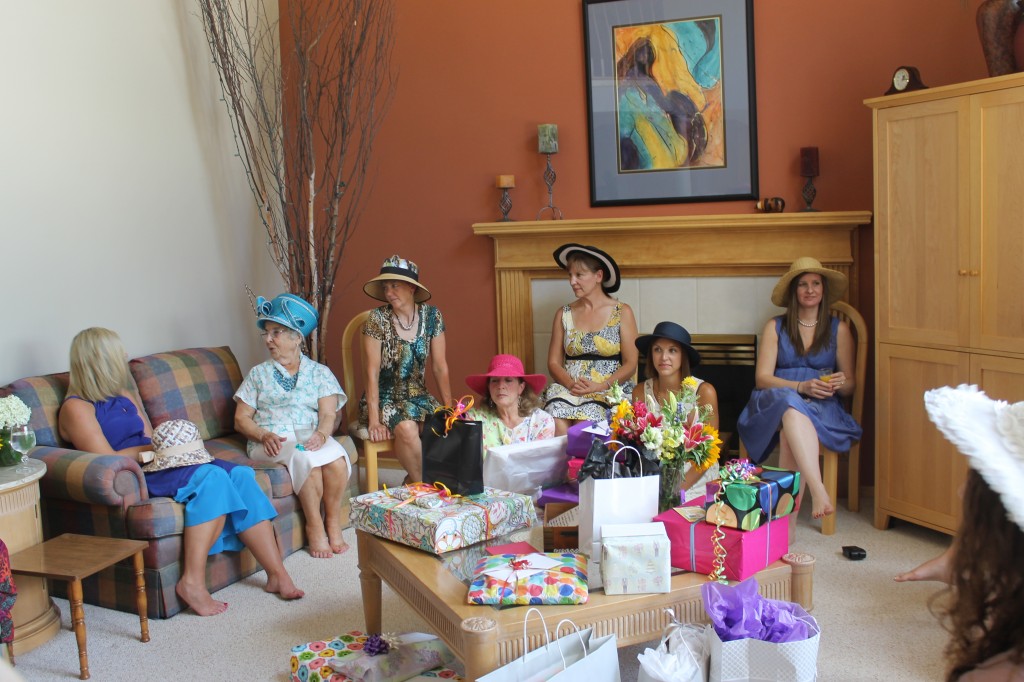 That is one excited bride for gifts!!
At the end of the day, all of the hard work paid off. Amy had a wonderful shower and was able to spend some quality time with the women in her life before her big day!
Happy almost 1 Year Wedding Anniversary Amy!