Day 21 of 25 Days of Christmas My Urban Oven Style!
I missed you the last 2 days. I apologize for missing Day 19 and 20.  With prepping for Christmas and having family in town, I needed to take a break for 2 days.
I still haven't finished my Christmas shopping and present wrapping and my baking and cleaning my house and feeling any bit ready for Christmas.
I have to say that I might be a little bit stressed today and have been running around like a chicken with my head cut off.
This goes back to the to my whole theory on why I prefer Thanksgiving over Christmas. Less stressful of a holiday.
I have been thinking about making these as an appetizer for almost 3 years now.  The flavor profile concept was there, but the execution was not there.
Remember when I told you about how I had wanted to enter the Pilsbury Contest a few years ago? This is a twist on the recipe I wanted to submit for that contest. I had finally decided I couldn't hold the recipe to myself anymore,
I tested it out on a few friends, and they all loved them. The best part, was that they were quick and easy to assemble.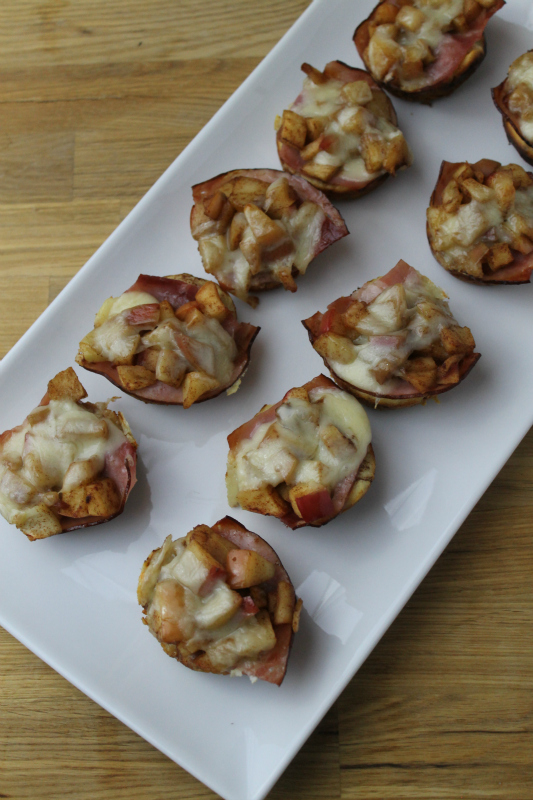 I hope you test these out on Christmas or for a New Years gathering!
Remember to stay tuned for the last 4 days of 25 Days of Christmas My Urban Oven Style! 
Look back at the rest of the month:
Day 1: 25 Days of Christmas My Urban Oven Style
Day 2: Lactose Free Coconut Hot Cocoa with Coconut Whipped Cream
Day 3: A Doggy Bed for Christmas
Day 4: Candy Cane Pretzel Cupcakes
Day 5: 10 Christmas Gift Ideas for an Aspiring Baker
Day 6: 2015 Christmas Tree Contest
Day 8: Thumbprint Date Cookies
Day 9: 10 Gift Ideas for the Female Entrepreneur in Your Life
Day 10: Christmas Gift Wrapping Ideas
Day 11: Cumin & Rosemary Roasted Carrots
Day 13: Brown Sugar & Bacon Roasted Brussels Sprouts
Day 14: Sriracha Bacon Shrimp Sugar Babies
Day 15: Christmas Monster Cookies
Day 17: 5 Gift Ideas for the Hard to Buy for Person on Your List
Day 18: Frozen Chocolate Mocha Martini
XoXo-
Rachel
P.S. To keep yourself up to date on all things My Urban Oven, make sure you are following us on all our Social Media channels. There are new photos and posts all the time, but not always the same ones on each channel. Don't miss out by not following along on each 🙂
Facebook- facebook.com/MyUrbanOven
Instagram- @MyUrbanOven
Twitter- @MyUrbanOven
*NEW* Periscope- @MyUrbanOven
Caramelized Apple & Ham Cinnamon Bites
Ingredients
1 package cinnamon rolls
4 slices of ham
4 oz of swiss cheese
2 apples
2 tablespoons butter
1 tablespoon sugar
1 teaspoon cinnamon
Instructions
Preheat oven to 375 degrees
Core and dice apples, with or without peels.
In a medium saucepan, melt butter on medium heat. Add apples and cook until tender.
Remove from heat and toss with sugar and cinnamon.
Spray muffin tins with cooking spray or coat with oil.
Open cinnamon rolls and cut each roll in half. Flatten each half cinnamon roll and press into the bottom of each muffin tin.
Cut each slice of ham into quarters. Place a slice of ham on top of each cinnamon roll.
Evenly divide apples between all 16 tins.
Place cheese on top of each tin.
Place in the oven at 375 degrees for 12-15 minutes.
Once cooked use a knife to cut around edges of cinnamon bites to remove them from pan.
Serve hot.
http://myurbanoven.com/caramelized-apple-ham-cinnamon-bites/