This post includes affiliate links. By clicking on the link and making a purchase, My Urban Oven may receive a small commission. 
It was +55 degrees in Minnesota Sunday.  We actually pulled out our grill, and didn't wear jackets the weather was so warm! March in Minnesota normally is still pretty cold and snowy, so the warmer weather was every welcomed.
The warmth also brought with it my itch to get my garden started. You know this itch is not new, but now that I can see ALL of the grass in our new backyard I am in full on research mode.  I have been staring out at the backyard as many times a day as I can to see where the light hits different spots of the yard. I know this is futile because the sun in March vs. May are not at all similar. I suppose those pesky trees will have leaves on them come May, adding a whole new element to the shade vs sun analysis. Knowing all of this, I am still staring out at our backyard constantly!
I even went out Sunday and started placing logs in different spots to see how much space I could take up in our backyard without going overboard. If you were able to catch it, I shared my thoughts on my Instagram Story.
I have been adding to my Gardening Pinterest Board almost obsessively in the last few weeks. I think if I executed all my ideas it would take over our whole entire backyard.  The Hubby may not like that idea, so I have been trying to scale back and narrow my mind set.
One thing I do know is that I want raised beds.  I was up in the air for a while on if I wanted ground beds, raised beds, or even elevated raised beds.  After doing more research, I much prefer the raised bed idea.  Raised beds will help section off plants, contain plants, and will be easier on the budget than elevated raised beds.
After doing some math on the price of lumber vs. the price of corrugated steel, I am leaning toward corrugated steel raised beds like the above ones made by Oh Dear Drea.  I also really love the mix of metal and wood.  The metal will help the garden pop out from its surroundings too.
Being able to build path ways between plants is really high on my list as well. A ground bed could allow for path ways, but would take more to control. I love the idea of being able to "stroll through the garden", even if the garden is going to be much smaller than those of Versailles.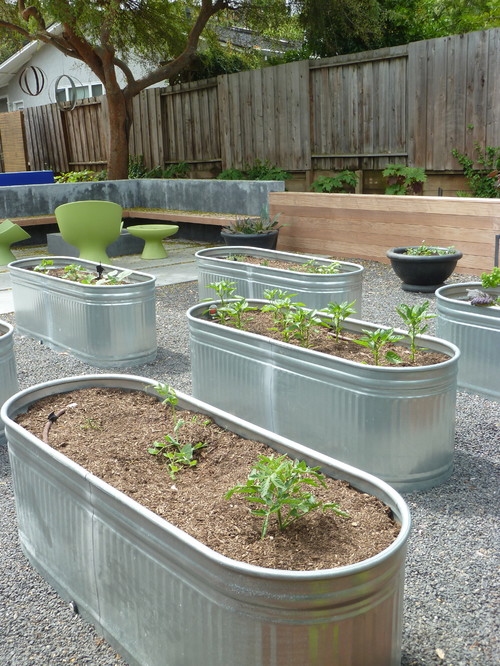 I would also like to incorporate something round or oval in my garden space. My mom has old water troughs in her garden she uses to plant Tomatoes.  I think the rounded look of these troughs give another element for the eye to be drawn to, as well as they add to an eclectic look that I am planning for my garden space.
One idea I love is making a garden space, that has an entrance gate.  What I love about the one above is that it has a trellis built right into the sides. How cute would it be with vines of green beans or cucumbers filling it to the top?  This gate would be like the entrance to some secret garden oasis. I do also love that the couple who made this lovely arbor also provided design instructions for building your own.
Oh and don't get me started on the rest of the yard. I keep trying to remind myself that I don't have the time, nor the budget to overhaul the WHOLE yard this coming season. There will be phases to these projects, but my garden will be the first project as soon as the weather is warm enough and the ground soft enough.
There is so much to consider, but I can't wait to get started!
As you start to think about your summer gardening, check out a few of my favorite tools to use for the garden.

A Multiple Function Sprayer is as must for watering plants, cleaning containers and filling water containers.
Having a small Tiller is great for turning over your garden each Spring; making the soil nice and fluffy.  I also use the tiller to manage weeds. The compact size allows me to pop it in between plants and blast our weeds. Speedy way of weeding!
Good Pruning Shears is a must for cleaning up shrubs, plants and gathering flowers. I always prefer Fiskars band products when buying cutting tools. They make a real quality item.
I have had too many pairs of garden gloves that allowed water and dirt to get through leaving my hands dirty even though I had on gloves. After I found these Coated Gardening Gloves, and will not wear anything else.
A garden stool and carrying bag is on my list of items to buy for this years gardening season. I am looking to buy this Stool & Tool Bag combo. Normally I carry everything around in a bucket, but having a stool built into the Tool Bag, is genius!
If you have any shrubs in your yard, a Large Hedge Shears is needed in addition to the pruning shears.  I used these to trim up all my bushes to make sure they don't get out of control!
Any set of good Garden Tools will do the trick, but I do prefer metal ones because they cut through the dirt easier and they hold up when cutting into tough ground. The thing I love about this set is that the Transplanter Trowel has measurements for when you are planting.
Another must in the garden is a wide toothed Garden Rake.  I use ours for cleaning up garden beds, smoothing out soil and preparing soil for planing.
I know many of you may be starting to think about your summer gardens too. I would love to hear your thoughts on garden planning, any great ideas you have for what I should grow and any experiences you have had with raised bed gardening.
Don't forget to follow My Urban Oven on Facebook, Instagram, and Pinterest, for more inspiration, my continued ramblings, and photos of what is happening in the My Urban Oven House! 
XOXO, 
Rachel 
P.S. I am falling for Instagram Stories… so don't forget to follow!!